Evie Smith
Dirty Laundry


Final Major Project



The aim of my Final Major Project is to design a solution to bring ease and fun back into first dates and combat awkwardness, and monotonous conversations.

Dirty Laundry is a card game designed to take the awkward out of first dates and create a more playful, open, and honest conversation to REALLY get to know your date!

The game concept is as follows, on one side of each card is a question relating to ask your date. These trigger random conversations on things you never thought you would talk about on a first date. On the reverse of the cards is a standard playing card set reimagined with the visual language of Dirty Laundry. This encourages people to reuse the game as well as play other card games to create competition, furthering the fun of the game concept.

Nod fy Mhrosiect Mawr Terfynol yw dylunio ateb i ddod â rhwyddineb a hwyl yn ôl i'r dêt cyntaf a mynd i'r afael â sefyllfaoedd lletchwith, a sgyrsiau undonog.

Gêm gardiau yw Dirty Laundry sydd wedi'i chynllunio i gael gwared ar yr elfen letchwith o'r dêt cyntaf a chreu sgwrs fwy chwareus, agored a gonest i ddod i adnabod eich dêt GO IAWN!

Mae cysyniad y gêm fel a ganlyn, ar un ochr i bob cerdyn mae cwestiwn i'w ofyn i'ch dêt. Mae'r rhain yn sbarduno sgyrsiau o bob math am bethau nad oeddech chi wedi meddwl erioed y byddech chi'n siarad amdanyn nhw ar ddêt cyntaf. Ar gefn y cardiau mae set o gardiau chwarae safonol wedi'u hail-ddychmygu gydag iaith weledol Dirty Laundry. Mae hyn yn annog pobl i ailddefnyddio'r gêm yn ogystal â chwarae gemau cardiau eraill i greu cystadleuaeth, gan hyrwyddo hwyl cysyniad y gêm.




---
Sex and Serial Killing

Dissertation Design



This project is a visual representation of my thesis in an editorial style to convey ideas presented within my dissertation. An investigation into media sensationalism and the dangers of serial killer fame, romanticism and sexualisation.

Serial killers often acquire celebrity status due to their odious crimes. Within this thesis, I discussed ideas surrounding the involvement of the media, widespread desire for celebrity status, and dark fandom and the substantial social awareness of these individuals.
I channelled this investigation through the guise of a teen girl, as one of Bundy's 'fans'. Merging design styles of a typical police investigation file with a girl's diary and teen magazines.

Mae'r prosiect hwn yn gynrychiolaeth weledol o'm traethawd ymchwil mewn arddull olygyddol i gyfleu syniadau a gyflwynir yn fy nhraethawd hir. Ymchwiliad i orliwio gan y cyfryngau a pheryglon rhoi enwogrwydd i lofruddion cyfresol, rhamantiaeth a rhywioldeb.

Yn aml, mae llofruddion cyfresol yn cael statws ac enwogrwydd oherwydd eu troseddau ffiaidd. Yn y traethawd ymchwil hwn, trafodais syniadau'n ymwneud â chyfraniad y cyfryngau, awydd eang am statws ac enwogrwydd, a chefnogaeth dywyll gan ddilynwyr ac ymwybyddiaeth gymdeithasol sylweddol o'r unigolion hyn.
Defnyddiais ferch yn ei harddegau, fel un o 'gefnogwyr' Bundy, fel modd o gynnal yr ymchwiliad. Gan uno arddulliau dylunio ffeil ymchwilio nodweddiadol yr heddlu gyda dyddiadur merch a chylchgronau i rai yn eu harddegau.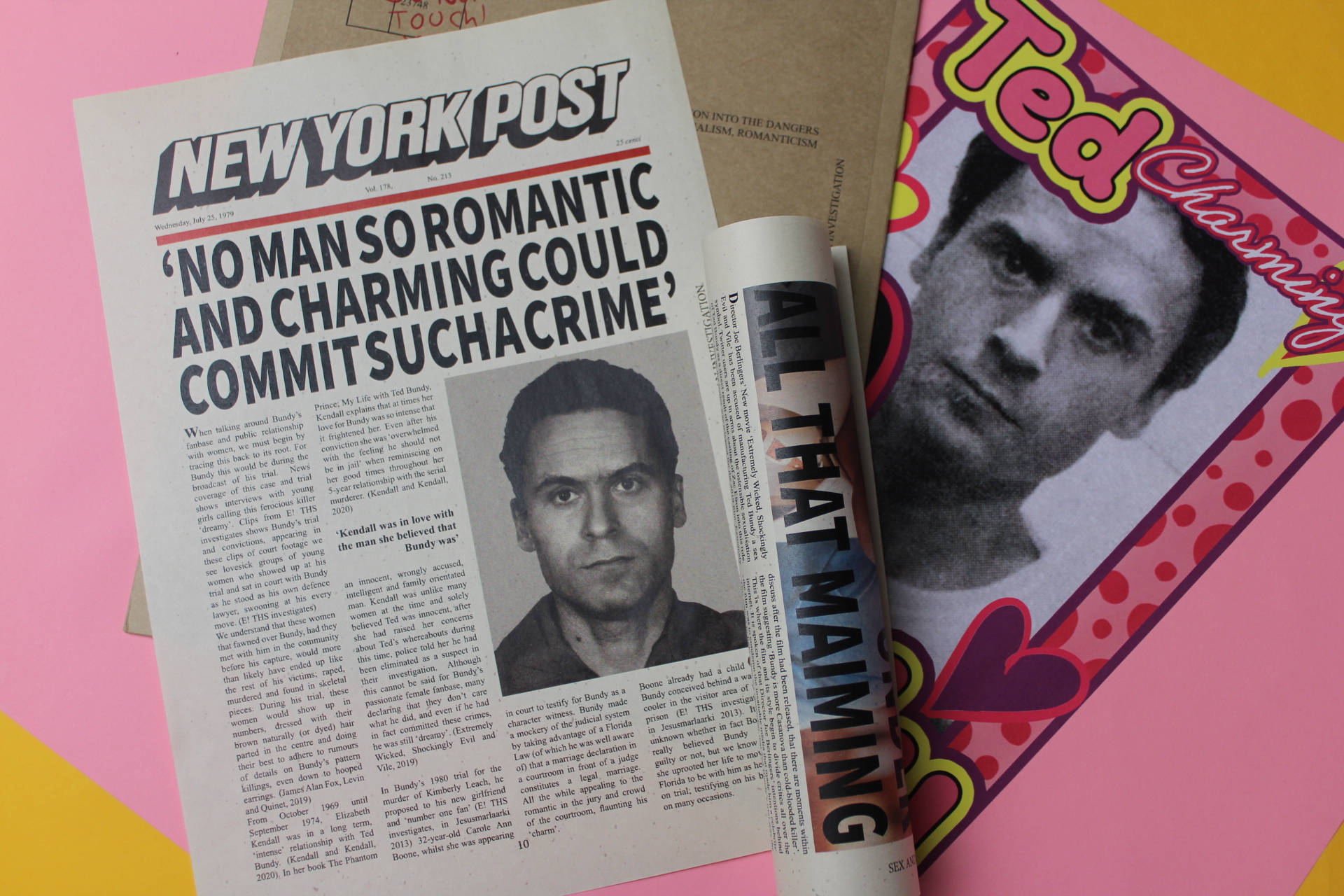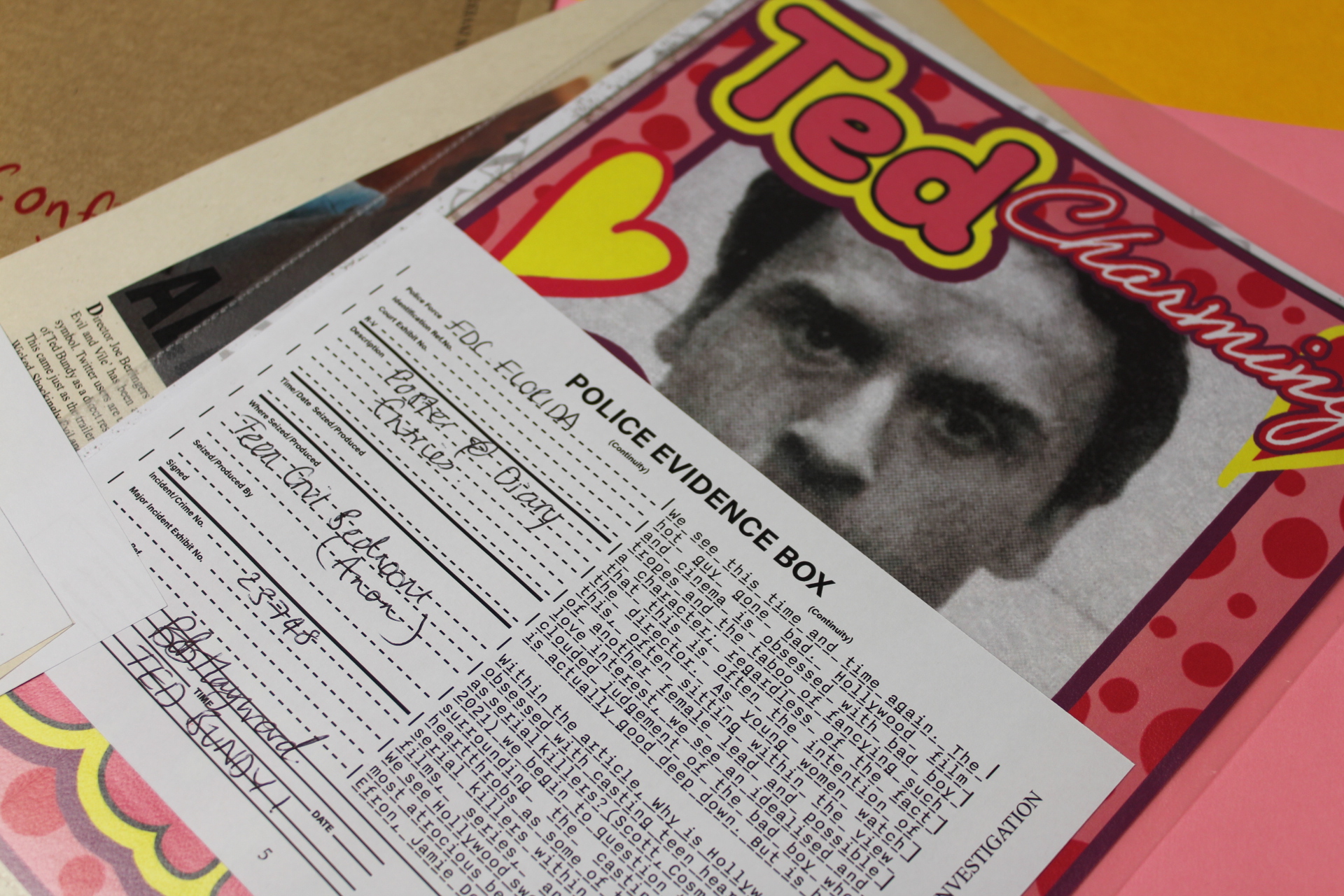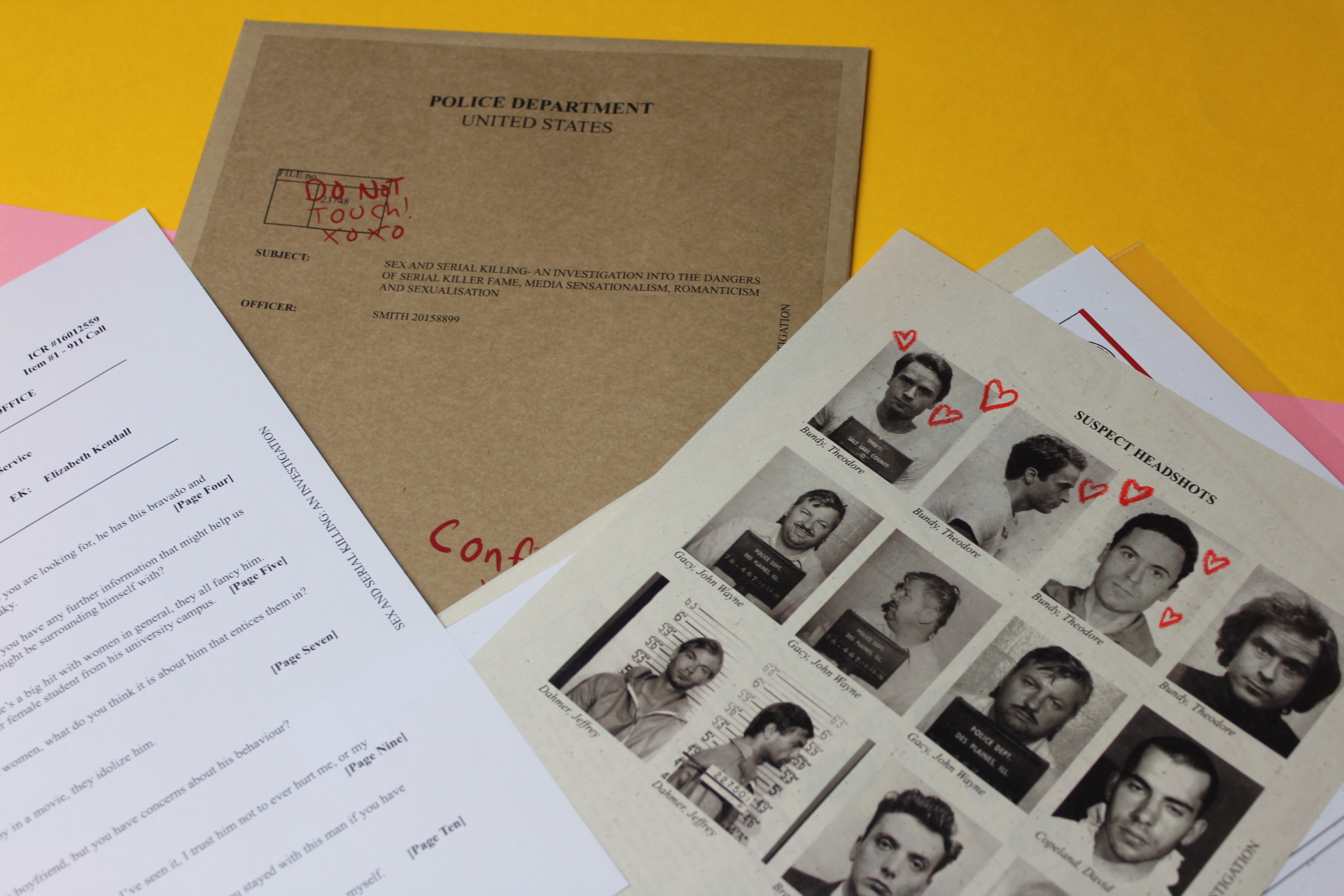 ---
Website
Instagram